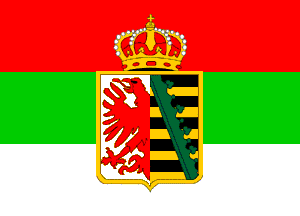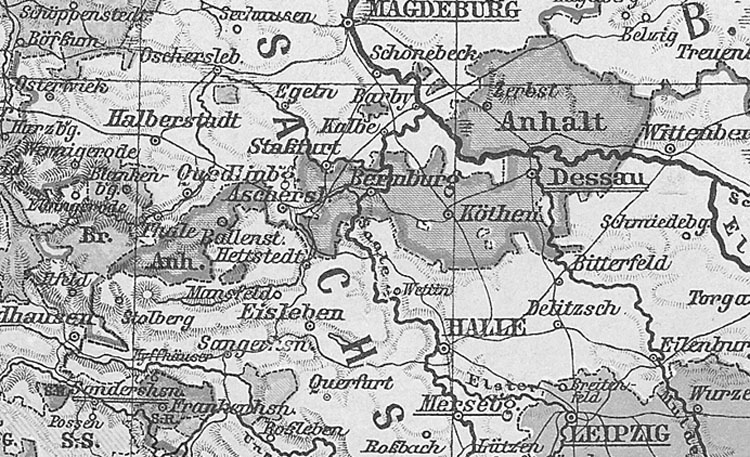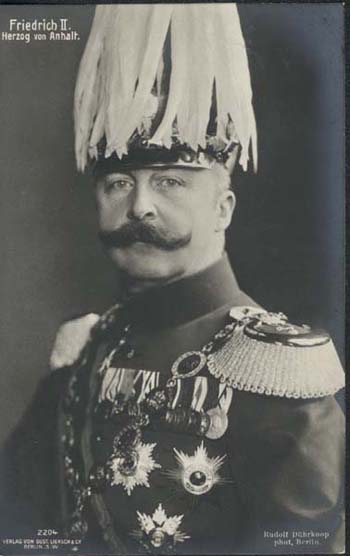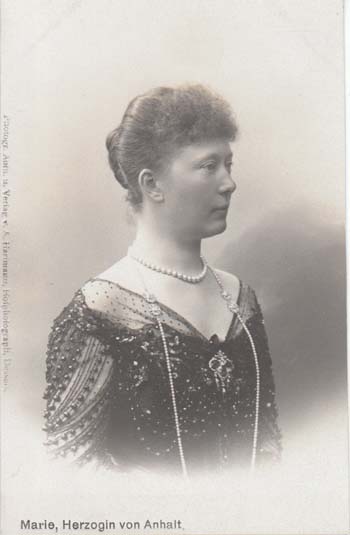 Leopold FRIEDRICH II Eduard Karl Alexander, Duke of Anhalt (Dessau 19 Aug 1856- Schloß Ballenstedt 21 Apr 1918); m.Karlsruhe 2 Jul 1889 Marie Pss of Baden (Baden-Baden 26 Jul 1865-Baden-Baden 29 Nov 1939)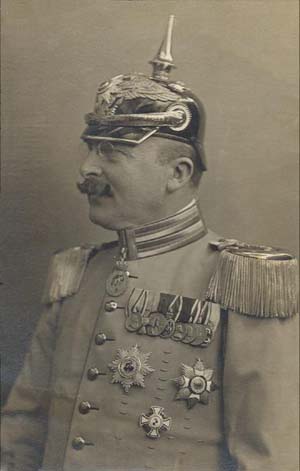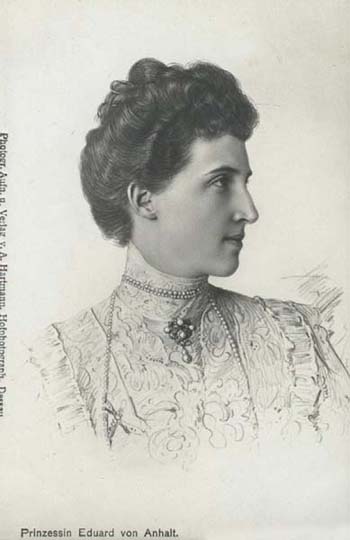 [EDUARD Georg Wilhelm, Duke of Anhalt (Dessau 18 Apr 1861-Berchtesgaden 13 Sep 1918); m.Altenburg 6 Feb 1895 (div 1918) Luise Pss of Saxe-Altenburg (Altenburg 11 Aug 1873-Altenburg 14 Apr 1953)] till 13 September. Eduard actually divorced Luise early in 1918.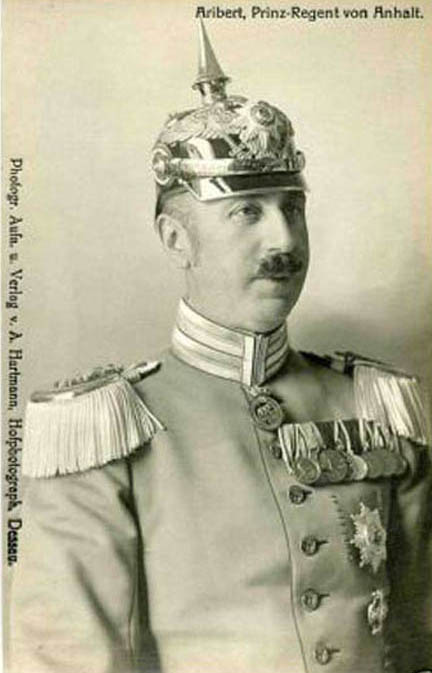 Aribert Joseph Alexander, Regent of Anhalt for his nephew Joachim Ernst (Wörlitz 18 Jun 1864-Munich 24 Dec 1933); m.Windsor Castle 6 Jul 1891 (div 1900) Marie Louise Pss of Schleswig-Holstein (Cumberland Lodge, Windsor 12 Aug 1872-London 8 Dec 1956)
Prince Regent Aribert of Anhalt, abdicated in the name of his nephew Duke Joachim-Ernst of Anhalt. This young prince had taken over two months earlier, when he succeeded his father, who in turn had succeeded to the throne on April 21 of that same year.)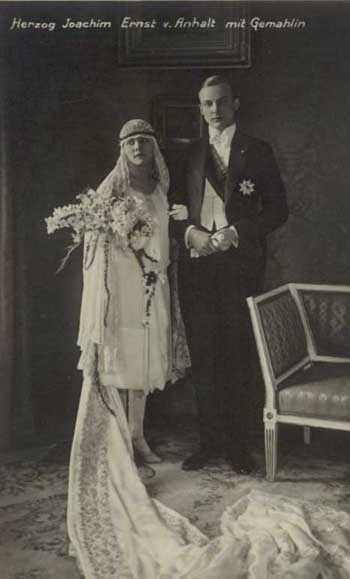 Joachim Ernst. [JOACHIM ERNST Wilhelm Karl Albrecht Leopold Friedrich Moritz Erdmann, Duke of Anhalt, who abdicated 12 Nov 1918, ending this family's rule (Dessau 11 Jan 1901-d.at Buchenwald, a Russian prisoner 18 Feb 1947); m.1st Schloß Ballenstedt 3 Mar 1927 (div 1929) Elisabeth Strickrodt, cr Gfn von Askanien (Plauen 3 Sep 1903-Berlin-Zehlendorf 5 Jan 1971); m.2d Dessau 15 Oct 1929 Editha Marwitz, by adoption "von Stephani" (Düsseldorf 20 Aug 1905-Garmisch-Partenkirchen 22 Feb 1986)])
(1813-1871, Anhalt-Dessau until 1863)
The Duchy of Anhalt-Dessau, a German state since the seventeenth century was a member state of the Germanic Confederation in 1815.  In 1863, the duchies of Anhalt-Bernburg and Anhalt-Köthen were united and renamed the Duchy of Anhalt.  During the Prussian-Austrian War of 1866, Anhalt sided with Prussia.  It became a member state of the North German Confederation in 1867.  The military became a contingent of the Prussian army on 28 June 1867.  Anhalt became a state of the German Empire in 1871.  The country consisted of two larger portions – Eastern and Western Anhalt, separated by the interposition of a part of Prussian Saxony – and of five enclaves surrounded by Prussian territory.
The duchy was a hereditary constitutional monarchy.  There was one chamber in the parliament.   The parliament (Landtag) was composed of 36 members, of whom the duke appointed two; eight were representatives of landowners paying the highest taxes, two were the highest taxpayers of commerce and industry, fourteen from the towns, and ten from the rural districts. 
There was a whirlwind of succession in Anhalt with three rulers during World War I.  There was a powerful regent in 1918 by the name of Aribert, who was widely rumored to be homosexual.  His marriage to Princess Marie was termed null and void in 1900 and she obtained a British title.  Ostensibly, the marriage ended with her abandonment of her husband, but in reality, she had found Aribert with another man.  He gave the impression that he married Princess Marie under false pretenses and did not even consummate the marriage, but his family tossed her aside while she was out of the country, divorced her without her consent, and allowed word to spread that it was because she couldn't have children.
Consuls were maintained for trade with Brazil, Argentina, Belgium, France, Great Britain, Italy, Austria-Hungary, Paraguay, Spain, Portugal, Rumania, Russia, Mexico, Switzerland, Turkey, Ecuador, and Cuba.