Information provided from the de Quesada collection adds that there were many of these type helmets produced in low run quantities.  This style is representative of helmets made by a NY firm named Deeken. These are somewhat more flimsy in the metal areas than German made helmets.
The last helmet is actually similar to an earlier German helmet M42 model.  This one has a cockade that is made of leather, and is red white and blue.  There is no liner and this thing has never been cleaned.  The cruciform spike base is smaller than its German counterpart, and the spike itself seems rather primitive.  There is a uniquely American wappen that has had a patent on it.  And again is an eagle of peace. This is an excerpt from an email by de Quesada:
"The early eagle on the M1842 helmet is actually a Model 1832 Shako Plate. I have a few examples of this plate including dug versions from Second Seminole War era sites. It is possible this piece could date to the Civil War and Reconstruction eras. I have this style helmet illustrated in Civil War and Post Civil War era military suppliers catalogs."
  So here goes more theories.  Research continues here. Militia units but photo proof?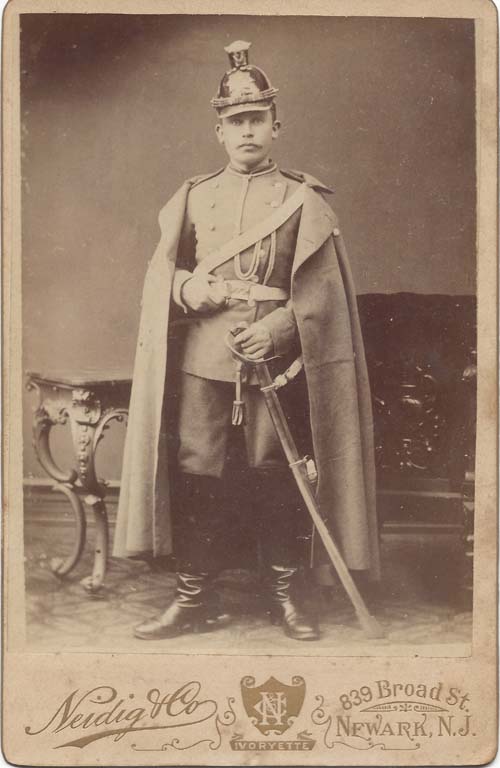 From Clayton Hunt: Charleston, SC had 3 militia companies before the Civil War that wore Pickelhaubes. The Palmetto Riflemen which used the 1845 Swedish Style with silver trim, Black horsehair and Silver Skull on front. The German Artillery from sketches used the 1845 style helmet as well with brass trim, brass spike but the front appears to be a sun ray plate with crossed cannons on front. Which leaves the German Riflemen founded in 1841 who wore the Pickelhaube as well. The image from their woodcut shows an officer with white plumage on top of his helmet. I am of the opinion that you have a helmet from an enlisted man of the German Riflemen of Charleston since only officers wore plumes. All of the German units of Charleston including the German Fusiliers and German Hussars used US Eagles for plates and belt accoutrements instead of South Carolina plates from my research. The German Riflemen wore the Hanoverian dark green rifleman frocks and black pants as well. Maybe this helps and hope it does or at least adds to the discussion. I am from Greenville, South Carolina and have focused my research on units from here between 1830 and 1861.